Latest posts by Dr. Kate DDS
(see all)
Are you looking into getting a dental implant but you are not sure whether it is the best option for you? Do not worry, this guide will help you make an informed decision. We will answer all your questions about tooth implant procedure, types, side effects, cost and compare alternative treatment options that are available.
A dental implant is a metal post known as an abutment, that is placed beneath the gum. It represents the root portion of the tooth. A custom made tooth known as the crown is then attached to the implant. Dental implants are typically constructed by using sturdy materials such as titanium. They are designed to look and feel exactly like your natural teeth so that even you, won't be able to recognize the difference. 
Is it right for you?
Dental implants could be a great solution for people who are seeking to replace a tooth or their entire teeth. There are different causes of needing an implant which includes injuries, injections and some people simply do it for cosmetic reasons to improve their smile.
To qualify for an implant you must have strong gums and jawbone that can support the implant and hold it in place. The procedure will not be suitable for patients who have existing oral health issues such as bone loss or gingivitis. Your dentist will assess your gum and jawbone and will consult with you about the best treatment options.
Advantages and disadvantages of implants
Advantages include:
More reliable and effective.
Can sustain a tooth without the need for additional support.
Durability – they can last a patients lifetime if looked after.
Improved comfort and self-esteem.
They feel and look like normal teeth.
While dental implants are a helpful solution for many people, they are not the perfect option for everyone. There are some drawbacks to having implants.
Disadvantages include: 
They are often significantly more expensive.
Insurance coverage in many countries is usually minimal.

After having implants, you'll need regular check-ups.

Surgery is required.

Pain and swelling are expected after surgery.

Following the surgery, there is a slight risk of infection.
Types of dental implant
There are two main types of dental implants.
Endosteal Implant
This particular approach is most definitely the most common dental implant solution. Endosteal implants are placed directly into the jawbone, mostly with the use of tools such as screws, cylinders or blades, among other devices.
Subperiosteal implant
The second methodology is different as the implant is placed on the bone, as opposed to being installed directly in the bone. Subperiosteal implants are usually preferred in circumstances when a patient is not able to utilize regular dentures or can't sustain an endosteal implant due to lower bone height.
Full dental implant
While some people may only need a few implants to replace a broken or missing tooth, others need a complete tooth reconstruction. This is either the result of health issues or cosmetic reasons. Full dental implants differ from dentures because they are permanent, and you do not have to remove them for cleaning.    
When installing, the dentist does not have to place each tooth implant individually. Some models allow the dentist to fit the entire bottom set of teeth with just four implants. After a day of surgery, the patient can walk out with an entirely new set of permanent artificial teeth. 
The procedure – what happens at different stages
consultation
Before undertaking a dental implant surgical procedure, it is critical to consult your dentist in order to assess your particular situation. A patient's gums need to be healthy for the person to be eligible for a safe and effective dental implant. In addition to that, the patient must have sufficient bone height to host the implant snugly.
During the procedure
Initially, the dentist will remove the damaged tooth (or teeth) and will proceed to prepare the pa- patient's jawbone for the surgery. If the jawbone is not strong enough, the dentist might use bone grafting techniques in order to add mass and strength. The metal post of the implant will then be placed in the patient's jawbone (or on top of it, depending on the type of implant).
Aftercare and recovery
It is paramount for patients who have received dental implants to commit to their oral hygiene fully. Regular dental visits on a long-term basis are also highly recommended.
Dental implants are known for their stability and excellent reliability with outstanding performances over the span of a lifetime. However, the recovery process is particularly important after a tooth implant surgery. The post-operation convalescence might last up to several months. During this time, new bone will grow in your jaw.
Dental implant cost
The cost of dental implants might vary from country to country. Find out more about the average dental implant rates for different areas below.
| Country | Approx. Cost (in USD) for one implant |
| --- | --- |
| United States | $4000 |
| United Kingdom | $3300 |
| Australia | $3000 |
| New Zealand | $3300 |
| Thailand | $1500 |
| Philippines | $1200 |
| Brazil | $1000 |
Side effects
Following implantation, many patients experience pain and swelling. Some may even develop an infection. Patients who lack good dental hygiene may experience significant complications over time. 
Alternative options
If you cannot get dental implants, that does not mean that you are out of luck. Another alternative to traditional dental implants is mini dental implants. The main difference between these two options is that the mini version contains a much thinner root that requires less effort for the jawbone to keep in place. 
Dentists can usually fit mini dental implants in a single session, making it an attractive choice for people who are on the go and do not have a lot of time to deal with dental issues. 
The other options are dentures and bridges. These are both good options depending on the type of dental restoration you need. Dentures cost a lot less, so if you are looking to fill multiple missing teeth then it can be the most cost-effective option.
Before and after photos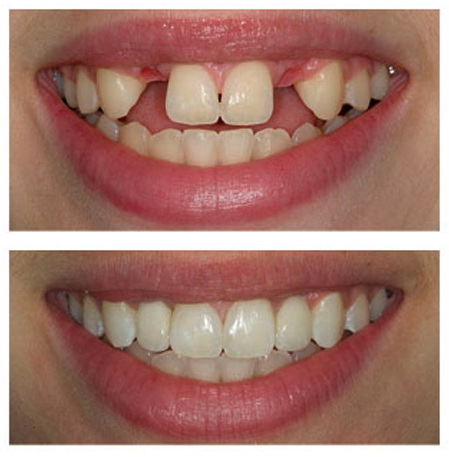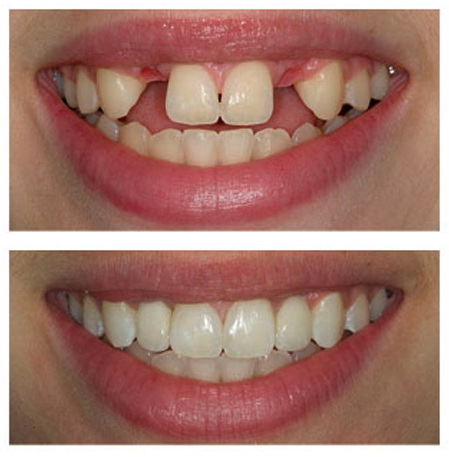 Conclusion
A confident smile makes a world of difference in a person's career, social life, romantic life, and more. Dental implants are an investment to your overall well-being for many years to come. 
FAQ
How long does a dental implant procedure take?
The dentist will examine your teeth to determine if you are a candidate for dental implants. In this stage, they'll also identify teeth that may need to be removed before the implantation process. If you need to have teeth removed, then in most cases, that must be done 4-8 weeks before the implantation.

Next, it's time to place the implant. In most cases, it takes 4-6 months for the implant to fuse with the bone fully. This fusion is known as osseointegration.

Once this is complete, then the abutment is installed. The abutment is the metal part that sticks out of your gum to which the crown will be attached eventually. The gum will heal about two weeks after the abutment is placed and will then be ready for the crown.


Finally, the dentist will fit you with a crown that will look just like a natural tooth. They will take measurements to determine the size the crown needs to be. Then, it is put in place and sealed with a filling. Depending on how long the preparation and healing takes, the overall process can take anywhere from 4 to 8 months.
How long do dental implants last?
While dental implants are a long-term solution, that does not necessarily mean that they will last forever. It is not uncommon for patients to have to replace their dental implants after about ten years or so. However, with proper care, some people have been able to make their implants last a lifetime. 
Is the procedure painful?
The procedure is not painful since you'll be given anaesthesia prior to the surgery. After you wake up, you will likely experience some discomfort, but it will not be unbearable. 
Are dental implants painful?
After your mouth heals from the procedure, you will not feel any pain regularly. After a while, you will not really be able to tell the difference between your implants and your natural teeth. 
Why are my implants bleeding?
As your mouth heals from the procedure, it is not uncommon to experience slight bleeding. However, if you are bleeding profusely and it keeps getting worse, you should immediately get in touch with your dentist. 
Why do my implants feel loose?
Sometimes the implant may feel loose if the crown has not adhered to it tightly enough. This problem can usually be solved quite easily and quickly. Other times it may be a sign that the implant is failing due to bone loss or gum disease. 
Either way, you should always contact your dentist as soon as you notice a problem with your implants. The dentist will conduct an X-Ray or CT scan to get to the root of the problem and prescribe a solution. 
Does insurance cover dental implants?
Your coverage level will depend on how extensive your dental insurance plan is. On average, you can expect dental insurance to cover from 10% to 50% of the dental implants' cost. 
Many policies institute a waiting period before you can get coverage, and others have an annual payout limit below the typical implant cost, requiring patients to pay a significant proportion of the bill out of pocket. 
Sometimes it can actually be less expensive to use a loan or a payment plan rather than going through insurance. Be sure to thoroughly weigh your options and read all the fine print before deciding how to finance your dental implants. 
Does Medicare cover dental implants?
Medicare Parts A, B, and D do not cover dental implants. In some cases, Medicare Advantage Plans can include the procedure, but you will want to read the fine print before signing up for this type of plan.